Fat Kat's Pizza
15439 Beech Daly Road, Redford, MI 48239
(313) 541-2000
8998 Middlebelt Road, Livonia, MI 48150
(734) 522-1000
I went out to visit my cousin Chris and have some pizza of his reccomendation. He shared "Fat Kat's" with me. It's a little place with a good size oven. There were just a couple of girls working, but those kids could make the pie. There wasn't really any dining room to speak of, so Christopher and I went to a park and had our pies on the back of the Buick. It was too nice a day to spend indoors anyway. Later that afternoon we saw a P-51 fly over, so it must have been a great day for flying too.
The pie was good. I enjoyed the sauce, which was not sweet. The pepperoni had a good flavor, and the sausage had both a wonderful taste and a nice texture as well. I also really enjoyed the crust. For a little place with no real pizziolo on hand, this was a damn good pie. I did not have any of Chris' pie, as my tummy can't handle green peppers.
Kruse & Muer on Wilshire
911 Wilshire Drive
Troy, Michigan 48084
(248) 362-2700
Review by correspondent Jarrod of "The Pizza Fans":
There is a restaurant attached to our building with a walk through corridor called "Kruse & Muer - On Wilshire". It's kind of a fancy establishment that makes high quality food. People I see going in there are often very posh and dressed up. One night when we were all hungry here at the help desk, I suggested getting pizza, and my co-worker Gabriel suggested getting pizza from "Kruse & Muer". I didn't even know they made pizza at the time. I sure didn't expect what we received that night.

Let me tell you, this a pizza to behold!!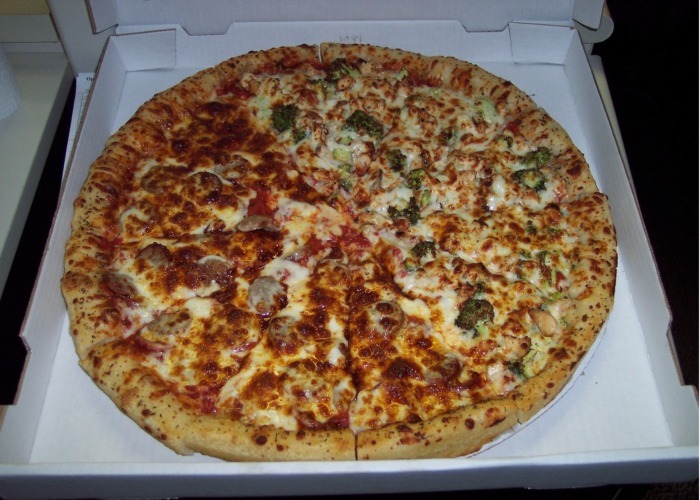 We ordered double cheese with half pepperoni with mushroom and half chicken with broccoli. My goodness! I loved both sides of the pizza. But I preferred the pepperoni side much more. The cheese is a nice blend of cheddar and mozzarella and baked to a golden brown. Simply delicious and cooked to perfection! The sauce isn't too sweet or too salty.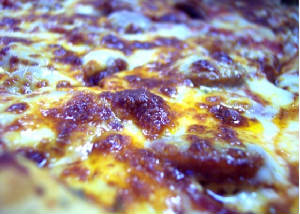 The most unique thing you'll notice about this pizza is its wonderful crust. It's deep dish crispy with a wonderful Italian herb flavour blended right into the crust. And the crust edge is a perfect blend of crispy and soft. The center is soft and hollow as it is folded over in the pan. Just look at this wonderful crust!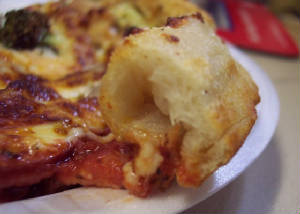 My favorite thing about this pizza is it's unique crust. Thumbs way up for this original treasure from "Kruse & Muer". - Jarrod
Jim's Galley
29110 N. Gibraltar
Rockwood, MI
734-692-3090
I really enjoyed this pizza. Again, I ate too much...which I have to really stop, but pizza is so good, it's very difficult. Luckily the other "pizza fans," Denis and Jarrod, ate too much as well, so at least I wasn't alone in my gluttony.
If you're ever downriver, grab some of this pie! The crust was wonderful. Every ingredient was top notch, and they cooked it perfectly.
Nana Rosie's Famous Pizza
8368 Pelham Road (just North of Wick)
Taylor, MI
(313) 291-NANA
Nana's is a good pick up pie. They also have free delivery, but we went to get it. I like to see the new pizza places i eat from. The crust was nice and had good flavor. The cheese was rich and flavorful, and the pep & olives on mine were quite yummy. I like Nana Rosie's. If you're in the Allen Park/Taylor area, be sure to give it a try.
Fox's Pizza Den
31221 Plymouth Road
Livonia, MI 48150
(734) 458-1369
Just East of Merriman in Plymouth Square

Fox's Pizza Den began in 1971 in a suburb of Pittsburgh, and now serves thirty states, including Michigan. I noticed their sign on Plymouth Road in Livonia when I was on my way to pick up my new car from Rogin Buick. After we got the car, the very first place we went was Fox's. They have a good, solid "chain" pizza. What that means to me is that even though they may not have a million toppings, they have the most important ones, and they know how to make good pizza. The franchise owner was there, and he offered friendly service, as I talked to him about my love of pizza.
Every part of that fresh baked pie was right on the mark! I know I'll be heading back to Fox's the next time I'm in the neighborhood.
Roma Pizzeria & Restaurant
13020 Eureka Rd
Southgate, MI 48195
(734) 282-4900
Jarrod shares his Roma's memories
Cloverleaf Bar & Restaurant
24443 Gratiot Ave
Eastpointe, MI 48021-3306
(586) 777-5391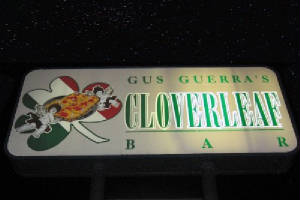 The Cloverleaf Bar & Restaurant in Eastpointe has grown from a small neighborhood bar that its owner Gus Guerra said, "looked like a little white farm house," to the east side institution it is today.
Gus and his wife Anna (Passalacqua) opened Buddy's Rendezvous in 1944. Two years later Grandma Passalacqua taught Gus and Anna her pizza recipe. In 1946, Gus was taking his first square pizza out of the ovens in this neighborhood bar in Detoit.
Gus sold Buddy's in 1953 along with his pizza recipe. In reality, he left what has grown to be Detroit-style pizza. The rest is part of Detoit's pizza history.
(from the menu)
If you've ever said Buddy's is the best in the Detroit area, have a Cloverleaf. It's like Buddy's, only moreso. It is fantastic!! - Dan
New York Pizza & Sub
5620 W. Vernor St.
Detroit, MI 48209
(313) 551-0698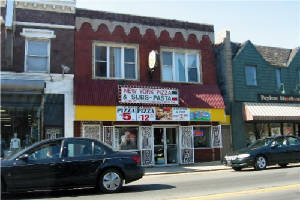 All Sports Pizza
20540 Ecorse Road
Taylor, MI 48180
313-383-8166
The "pizza Fans" had a movie night at Paul's house, and as always, pie was on the agenda. The pizza of choice was All Sports Pizza on Ecorse between Mortenview and Pelham. Great crust. Generous toppings. Quite filling.
Cathy and I got pepperoni, ground beef, and olives, and man did they load up on the olives.
We got a number of pies, and everyone had just what they wanted.
All while watching the first two "Pirates of the Carribean" movies.
I love sitting in front of a nice TV with good friends, all of us just stuffing our faces with the ZA!