Ballo
449
N Dearborn St
Chicago
,
IL
60610
312 832-7700
We sent correspondent Jarrod of "The Pizza Fans" to Chi-Town...what did he have to say about the pie? Read on...
I had the fortune of making a drive out to
Chicago
to meet up with my friend Ben from
San Jose, California
. As you all know,
Chicago
is celebrated for it's pizza. And for good reason. The pizza I had while visiting is some of the best pizza I have ever had.
I'll start with my visit to Ballo Italian Restaurant. It has traditional Italian food, but a rather untraditional dining environment. The dining area has a disco ball and Elvis, as well as other tunes of the 60's and 70's play throughout the place. The staff here treat you like royalty. I half wondered if they thought Ben was a powerful mob boss with as much as they were catering to us. The first thing they do is bring out this incredible Italian bread with oil and fresh ground mozzarella.
It was simply divine! Then the pizza came. I ordered the "Boscaiola". Which was mozzarella, tomato sauce, ricotta cheese, cream cheese and parmesan. Talk about my pizza heaven!
Ben's pizza was fantastic as well. He ordered the "Margherita". Which was simply mozzarella, tomato sauce, and fresh basil. He also ordered pepperoni for extra measure. His tasted completely different from mine. More zesty and salty. It was delicious.


The pepperoni was very thinly sliced, but high quality. It didn't burn from the flame. And you can see the juices from the pepperoni bleeding off into the crust on the right. Adding that flavourful touch to the crust.


The slice stays firm even though there is a wealth of sauce, cheese and pepperoni topping. And just look and this wonderful crispy crust!
Burnt on the edge and giving it a wonderful crunch. I was very pleased with this brick oven pizza.

My favorite thing about my pie was the cream cheese. It added a very original flavour to the pizza I was not used to and made it extra tasty.
Gino's East of Chicago
633 N. Wells St.
Chicago, IL 60610
312-943-1124
We sent correspondent Jarrod of "The Pizza Fans" to Chi-Town...what did he have to say about the pie? Read on...
This is my second review from the
Windy
City
. The next morning, Ben and I decided to go to a
Chicago
pizza treasure. Rated as one of the best pizza places in town. And after eating here, I understand why.
The inside of this place is rather interesting. It almost looks dirty. The walls are gloss black and everyone writes on the wall with white paint pens. It's rather unusual. But the staff is very friendly and kept our drink cups full. That is always a great way to get a tip increase from me. Anyway, Ben and I ordered a simple double cheese and pepperoni deep dish pizza. And it arrived very quickly in all of its splendor.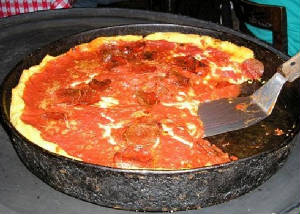 Real, Authentic Chicago Deep Dish
It looked so good, I had a hard time holding back. Ben was in the washroom, and I wanted to wait until he got back before taking my first bite. First off, we needed a fork and knife to eat this, as it was so loaded with cheese and sauce. Just look at this incredible slice of pizza!



The cheese is literally thick and sliding off the slice. But most importantly, words cannot express how fantastic this pizza tasted. The flavour tantalized my taste buds with heavenly zesty goodness. The sauce was zingy and oh so wonderful! Possibly the best I ever had! The pepperoni was perfect. Just the right thickness and texture. The cheese was oh so gooey and thick. While it was hot, it strung up to your mouth. You had to bite it to break it. It streched perfectly. And it was browned to perfection.



The crust, which was more like apple pie crust, was flaky and really crunchy. It was full of yeast goodness and really laid your stomach to rest. After just one slice of this pizza, you are pretty much done for. Ben and I of course each had two and a half pieces. Two slices of this incredible pizza is more than enough for any normal person.
Do not visit
Chicago
without stopping at this place. It is some of the best pizza I ever had. Ben stated that it
is
the best pizza he ever had. He may be right, but those are some serious words. Especially in the contemplative world of pizza.
I would be hard pressed to find my favorite thing about this pizza.
Everything
was perfect!!