Windy City Pizza
35 Bovet Road
San Mateo, CA 94402
(Borel Sq Shopping Center, El Camino at Hwy 92)
Tel: (650) 591-9457
Fax: (650) 578-8124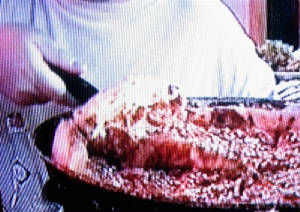 Video Capture of Windy City Pizza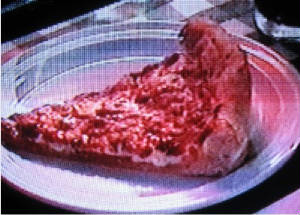 Video Capture of Windy City slice
To see WINDY CITY PIZZA video, click this picture!
To See WINDY CITY PIZZA video, click this picture!
The Pizza Box
1253 Jacklin Road
Milpitas, California
(408) 946-6521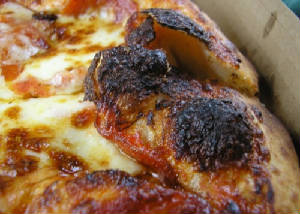 Oh man, those burnt bubbles look so good!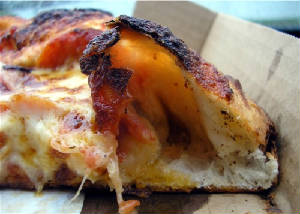 I see what Jarrod means. Wonderful air pockets in the crust. I want this pizza.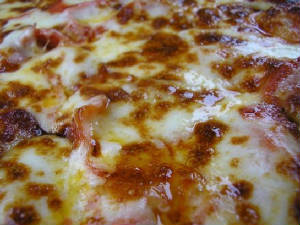 That looks so good! I can't believe Jarrod didn't take me there when I went to California.
The Pizza Box is located on Jacklin Road in Mipitas, California. It is possibly the very best pizza in the Bay Area. Followed closely by Windy City Pizza in San Mateo. The pizza is classic hand tossed. The crust has air pockets and dark blisters of baked goodness.
The cheese does not appear to be a mix of any kind but rather just high quality mozzarella. You can tell it is good quality by the browning on top. The pepperonis are tucked under the cheese instead of sitting on top. This helps to blend the flavours together better. The pizza is full flavoured and robust. The flavour bursts in your mouth with every bite. Just look at the consistency here.
You can see by the juices and oils from the meat and the cheese just how heavenly this is. And the cheese stretches wonderfully. (See video clip)

Whenever I get to the Bay Area, I never miss the opportunity to have Pizza Box pizza. Simply wonderful!!

-=Jarrod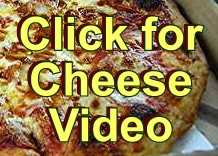 Thanks for a great review Jinks. - Dan