Pizza Bob's
13938 Middle Gibraltar Rd,
Rockwood, MI
(734) 675-7796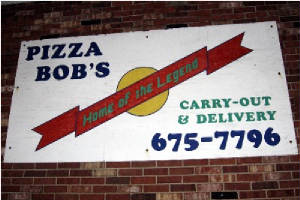 Jarrod Adams introduced me to Pizza Bob's pizza about eighteen years ago. We had an assignment in broadcasting school to make a TV commercial, and Jarrod, having eaten Pizza Bob's for many years, chose that restaurant for his commercial. A timeless product for sure. I was assigned to a group that I did not lead, and I had to work on a commercial for a VHS camcorder with a group whose delivery was very stilted. Anyway, I knew after seeing Jarrod's commercial, I wanted to have some of Bob's pizza, so when we got the chance, I went. Granted it was only once, as not long after that, I moved up to Rogers City, where I discovered Kelly's Venture Inn.

Anyway, I knew I wanted to have Pizza Bob's once again now that I've started my pizza quest...so I did.
And I enjoyed it, despite not having my two favorite toppings. (green olives/broccolli)
The sauce is a nice flavor with a saltiness that does not beg for the addition of my usual green olives. The cheese was delicious with a great texture and rich flavor. It was slightly stretchy, but still easily chewed. The pepperoni was perfect, and the crust had a nice powdery feel. I must take Cathy to Pizza Bob's.
Of course, now I want to try the OTHER Pizza Bob's (no relation) in Ann Arbor. Sadly Pizza Bob's is now closed. A chapter in pizza history has ended.

Click here for Ann Arbor, then scroll down for the A2 Pizza Bob's
Another true pizza afficionado, Jarrod Adams.
Primo's Pizza
734-476-4260
33521 7 Mile Rd.
Livonia, MI
(Near Hunt's Ace Hardware)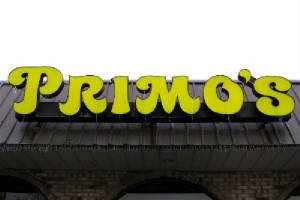 The pizza I ate during my teenage years!
When I was very young I used to get horrible migraine headaches, so the doctor told my mom to write down what I ate. We narrowed down my headaches to cheese type foods, primarily pizza. Around junior high, I figured it was time to try pizza again, and my body chemistry was sufficiently different, that my allergy was cured!!
Primo's pizza was my "ZA" of choice from 1983 to 1989. My family would order it. I'd also get their rectangular individual slices when I worked at a local hardware store just a few buildings west of Primo's. They have the best pepperoni anywhere!! They curl up and create little pools of glistening wonderful grease.
Some people dab out the grease (like I do as I push 40) but when I was a teen, I loved that aspect of their "pep." If you're ever in Livonia, near Farmington Rd. & 7 mile, get a Primo's pizza!
It was wonderful to have their pizza again after years away.
Del's Pizzeria
734-676-2155
2833 West Jefferson
Trenton, MI
I told Jarrod I wanted to have a special pizza. He again came through, introducing me to Del's. This place has an amazingly creamy cheese that will blow your mind. It's not stretchy like the cheese you are accustomed to on a pizza. You must try this pie. The crust was fantastic, with an outer surface reminiscent in flavor of a saltine cracker, but almot smoky. The overall texture was wonderful, and the broccoli was flawless. Dels has been around since 1953 in the same location, so they've had plenty of practice making good pies!!
Also, look for a picture of Mary Lynn Rajskub of Fox TV's "24" on the wall. She grew up nearby, and it's cool to know she's eaten there.
Shield's Restaurant, Bar, Pizzeria
25101 Telegraph Rd.
Southfield, MI 48076
Ph: 248-356-2720; Fax: 248-356-4419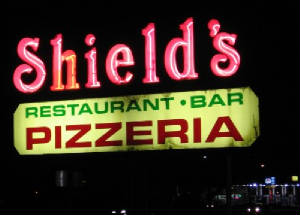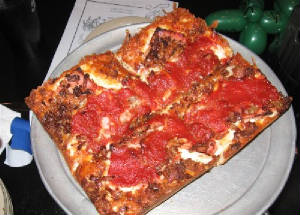 Denis and Dylan enjoyed a meat lovers, which Jarrod and I each had a bite of.
Of all the pizzas I've eaten since my quest began, this one, by far, had the most unique flavor. Oddly it wasn't in every bite, either. Every so often there would be a flavour reminiscent of "Taco Bell" in a bite. I don't know if it was their ground beef seasoning, the cheese, sauce, it is unclear, but it was good.
Whilst eating square or rectangular, I love having a corner slice! The cheese had a hint of cheddar or asiago. Really good stuff. Different...very different, but Oh So Good! Denis and his son got a different pizza, with no broccoli. Jarrod tasted it, and preferred it over the first pie, which had double cheese, pepperoni, broccoli, ground beef, and garlic.
Denis' pie was a meat lover's. Pretty straight forward, and yummy, Jarrod and I each had a bite of it too.
Buddy's in Dearborn
For my bachelor party, Jarrod chose Buddy's...so good I forgot to take a picture before digging in!
Jarrod always makes life fun. He knows exactly the right way to make his friends enjoy themselves...and my bachelor party was no exception. First off, he knows I am a pizza connissieur, so we went to Buddy's in Dearborn, MI. The crust was great, the cheese was rich and tasty, the pepperoni was not too bland, and not too spicy, they offer broccoli, which is my favorite pizza veggie, and the atmosphere is positive as well.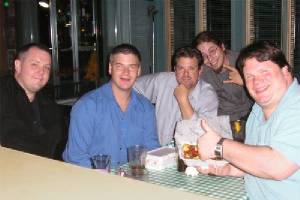 Denis, Paul, Jarrod, Russell, and me at Buddy's