Bistro Bar & Grill
4735 Washtenaw Ave
Ann Arbor, MI 48108
734-572-0912
I was at work when Alan Black first told me he had had a really good pizza at The Bistro Bar & Grill. He described a slightly crunchy crust, a sauce with little chunks of tomato (which he's not fond of, but I love), and good cheese.

Upon his recommendation, I went, and I got the margherita, which has mozzarella, tomatoes, and strips of fresh basil. I had them top it with some pepperoni, and damn, that's a fine pie!! I loved the crust!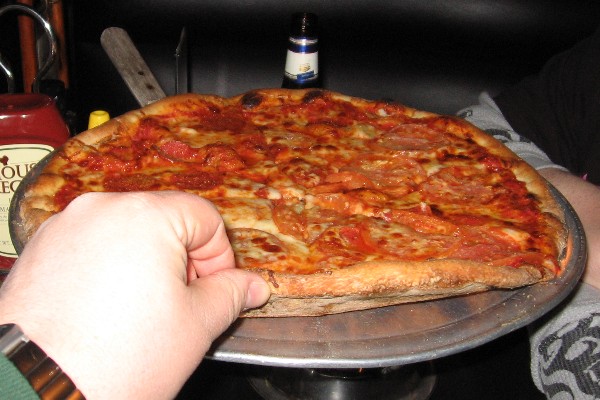 Cosi
301 S State St
Ann Arbor, MI 48104
(734) 332-1669

Cathy and I had gone downtown with no plan where we wanted to eat...just that we would have dinner someplace. Eventually Cathy suggested COSI. I had never been there, and said, "Sure, let's see what's on the menu."
Cathy noticed there was pizza on the menu even before I did. As soon as she pointed it out, I knew what my choice would be...little did I know, how wonderful this pie would be.
Cosi is a Parisian style place, and they really take pride in their breads. I think that's why their crust is so good. They may be a chain, but with their hearth, open stone oven, they make one of the most breathtaking pizzas I've ever had. It's light, refreshing, fantastically rich in flavor, and just beautiful.
I absolutely adored the fresh ingredients: mozzarella, basil, tomato...My God, this pizza was good. I had pepperoni, spinach, and fresh mozz, and I can't wait to try fresh mozz in my lasagnas I make. What a difference!!!
Mancino's Pizza and Grinders
2883 Carpenter Rd
Ann Arbor , MI 48108
(734) 677-3655
I hadn't had Mancino's in years, but when I went to a friend's birthday party, there in all its glogy was a big pizza calling, "Dan, come here!!!" I inquired as to its origins and discovered it was a big Mancino's pie. As soon as i bit into it I noticed a sauce that stands high above most others! Mancino's sauce is fantastic, amazing, and perfect! The crust isn't an airy crust, but it's good. The cheese is nice, and the pepperoni, beef, and olives were all good. The thing that blew my mind was the sauce! Wow. That's some wonderful sauce!
As it turns out, Mancinos must be a franchise pizza place. There are a number of them online, some of which are even owned by Ludlow enterprises, teh company that runs Lud's Burgers in Alpena. Google Mancinos for one near you.
Cottage Inn Pizza
Numerous Locations
See Website for details
(I visited the location at 4860 Washtenaw)
Cottage Inn offers a pizza with a very good crust. It has a nice crunch to the outer surface, with a tender interior and an overall pliable feel. The cheese is placed on top of the other toppings, so depending on what you order, the whole top may slide off of your slice, but even after you eat that, the slice with just its sauce still tastes very good. There is usually a nice light coating of cornmeal on the bottom of your pie. Both the pepperoni and sausage had good flavor, and I was pleased to see they offer the wonderful choice of broccoli!
Mr. Pizza
1484 Washtenaw
Ypsilanti, MI
(734) 485-0010

I noticed a Mr. Pizza menu tucked in the folder on the side of the fridge at work, so, being the pizza eatin' fool that I am, I called up and had 'em bring me some lunch. I really enjoyed it. They make a darn good pie. The crust was thin and tasty, it had a slight crunch to the edge, but was tender beneath the sauce, cheese, and toppings. I will be ordering from these guys again when I get a pizza craving at the station. I liked their big juicy olives, and enjoyed how the pepperoni came so close to teh edge, allowing for flavor even in the very last bite of each slice
NYPD/New York Pizza Depot
1235 South University
Ann Arbor, MI
734-222-9850
I'm glad I finally went back to NYPD. It was well over a year and a half ago that I first went there, and unfortunately, I had the pizza buffet back then. Tonight I had them make me a fresh pie, and it was 100 percent better. I was fascinated by the flavor and texture of the pepperoni. It was like thinly sliced salami, with peppercorn, and everything. Anyone who likes a good pepperoni, will like this one. The sauce could have been a bit saltier, but thank goodness it wasn't sweet. I'd go here again.
Cathy and I ordered Hungry Howies, since I haven't had their pizza in a long time.
Cathy says the crust and cheese were good, and she enjoyed the sausage, but she didn't like the sauce very much.
I agree that the sauce was not the most exciting, but I did enjoy my crust, cheese, and toppings as well.