Perry's Schuch Hotel
Restaurant & Bar
301 N. Hamilton St.
Saginaw, MI 48602
989-799-2539
The crust was pretty good. It reminded me of the kit pizzas you make at home out of a little box.
This was not an amazing pizza, but the atmosphere of the place was delightful. I liked the crust, the sausage, and the pepperoni. The sauce was nondescript, and the cheese was bland, and not fully cooked. This was an adequate pizza, just not a great one.

The Grand Blanc Inn
5313 S Dort Hwy, Flint, MI 48507
810-694-0010
On Sunday, Joe, Cathy and I visited my old stomping grounds near Flint, "The Grand Blanc Inn." I had forgotten just how wonderful their crust was. It is so similar to Indian naan, that unless you've eaten that delightful bread, you can't imagine it.
The cheese is wonderful, the pepperoni is slightly spicy, and the sauce is a nice blend of salty and tangy with no sweetness at all. Wonderful Pizza. Whenever you are near Flint, make a stop at the Grand Blanc Inn!
Zukey Lake Tavern
5011 Girard Dr Pinckney, MI 48169
(on the north shore of Zukey Lake)
810-231-1441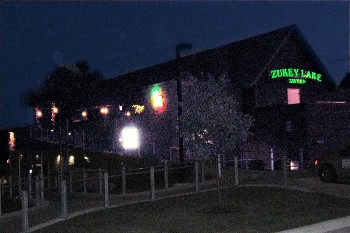 Friday night at the Zukey Lake Tavern
Cathy, Jarrod, Denis, Dillon, and I went out for pizza at the Zukey Lake Tavern, and aside from Cathy, who got a steak she describes as, "well seasoned with just a little bit of pink left," all of us got pizza.
Mine was a pepperoni, ground beef, and black olive.
Jarrod got pepperoni, ground beef, and double cheese...with mozzarella and cheddar.
Denis got a pie similar to Jarrod's, but with chopped onions, and Dillon got bacon and sausage. Each pie was very good. I had a slice of Jarrod's, and a slice of Dillon's. I really liked the bacon. The crust on all of them was great, although the dough inside mine, (away from the edge, and under the toppings) was a bit underdone. I can't wait to go back, and have some pie on the outdoor deck. The Zukey Lake Tavern has a wonderful feel, and the pie is yummy too!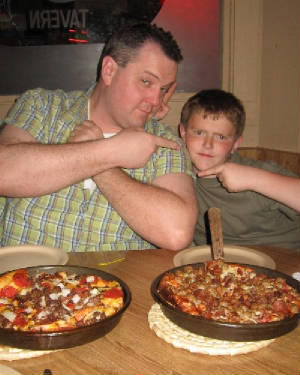 Denis & Dillon