Silvio's Organic Pizza
Beautifully Remodeled and Expanded Restaurant
715 N. University
Ann Arbor, MI
734-214-6666
This pizza is breathtaking. The crust is so good I could eat it with NO toppings. It has a nice lightly floured and smokey bottom. You can taste the hint of olive oil, and a heaping helping of pride. The edges, or "cornicione" are bubbly and just heavenly. I usually get a 10 inch Silvio's Margherita. The tomato sauce is so fresh and had a wonderful kick to it. The fresh basil is grown on site in a beautiful display. It gives the pie a wonderful aroma. Silvio gets his fresh organic mozzarella from an Italian cheesemaker based in Connecticut, and it is fantastic.
I could tell by meeting Silvio that he is a true and honorable pizzaiolo. And when I bit into his pie, I knew this man is a true pizza artist. I can't wait to try all of his pizzas, but I'm hooked on that Margherita. Oddly, when talking with Silvio, he describes himself, not as a pizzaiolo, but as a baker. Silvio leared how to be a baker making breads and doughs with his father. And for certain, I'll be back many times, with as many pizza loving friends as I can possibly gather together. For dessert, be sure to try the tiramisu!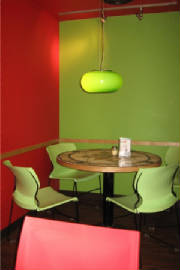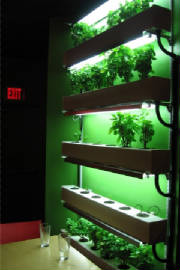 Bell's Pizza
995-0232
700 Packard Street
Ann Arbor, MI 48104-3316
For quite some time, my favorite Ann Arbor pizza was Bell's pizza. They're at 700 Packard Street, at State, across from the "blue front" party store. The sauce is just right, not too sweet. The pepperoni curl up a bit and get slightly crunchy on the edges. The cheese has a great flavor, and they offer my two favorite vegetebale toppings, broccolli and green olives. The crust is so good I can't even explain it here. It's crispy on the cornicione, or outer lip of the crust, but tender inside. There's just enough grease to make portions of the bottom wet, but for the most part it's just a slight buttery flavor with nooks and crannies like an English muffin, but somehow different. FANTASTIC!
Jarrod Adams and Denis Boismier visit Bell's Pizza
Anthony's Gourmet Pizza
1508 N. Maple
743-213-2500
The pizza I got had broccoli, green olives and pepperoni (my favorite combination obviously). The pepperoni was beneath the cheese, and the veggies were on top. The sauce was wonderful, and the cheese was very tasty. I enjoyed the richness of the overall flavor. It was not sweet. I am not a big fan of any kind of sweetness in my pizza.

Cathy's pizza was very unique. It is called a Potato Florentina, and features slices of onion, roasted potato, spinach, roasted garlic, and pesto sauce. It was good, but it was not pizza to me.

Visit the Anthony's Pizza Website
CITY'S Pizza & Subs (formerly DJ's)
3148 Packard St
Ann Arbor, MI 48108
(734) 971-2996
I loved DJ's pizza. When I saw it had closed, I was really bummed.
Jarrod and I were very glad to learn that the owner of DJ's is involved in CITY'S as well. He's making sure the new owners make me my good pies just the way I like 'em. I love getting tomatoes, green olives, and both the DELUXE and regular pepperoni. This is no five dollar cardboard pizza.
(Pepperoni note: The DELUXE is thicker, and the regular is thinner.)
The two flavors and textures go very well together.)

Get yourself a CITY's PIZZA! You'll really enjoy it.