Rock Bottom Restaurant & Brewery
10 Fountain Square Plz
Cincinnati, OH 45202
Phone: (513) 621-1588
Guest Pizza reviewer Gabriel enjoyed a wonderful pizza, and here's his review, written March 5th, 2008:
So in downtown Cincinnati, in Fountain Square Plaza, which is on the corner of Fifth and Vine, there is a restaurant called the Rock Bottom Brewery and Restaurant. It is restaurant number 1063 by the ID on my receipt, and aside from a good mug of brew, this restaurant makes an awesome pizza. I've been in Cincinnati since the first of the year, 65 days now, and have eaten at the Rock Bottom over 30 times. I didn't try one of their pizzas until tonight, and am really regretting that I waited so long. I've got only 8 days left in this city, and two of those eight are already sworn to Benihanas. It's almost enough to make me cry, but luckily for me, with six days left at Rock Bottom, they have only three more pizza recipes for me to sample.
Their pizza is a 10-inch thin-crust pie, too much for one person, but not enough for two healthy appetites. Order and appetizer and share with a friend. This thin crust irritated me at first because it kept trying to flop, ignobly spilling it's toppings back onto the tray, however, once it cooled down a bit I was able to get the first bite into my mouth. The crust comes in only one variety, delicious. It is a dry bread seasoned with parmesan and cracked black pepper, a combination I've never been served before, but so obvious I don't think I'll be able to live without it from now on. I rarely eat my pizza crust, and when I do I dip it in tomato sauce. This crust needs no sauce, and I found myself finishing it after I'd pushed my plate away, declaring myself done.
Now the sauce I really can't describe. It was sweet, not at all tangy, and that normally irritates me. Pizza sauce should be tangy, it's like a rule, if there is no zip to it send it back and ask for the buffalo wings instead. However, with the black pepper on the crust I was very forgiving of this sweet sauce, and besides, despite my feelings over pizza sauce, you really can't do tomato sauce wrong, the fact that it's made of tomato makes it delicious.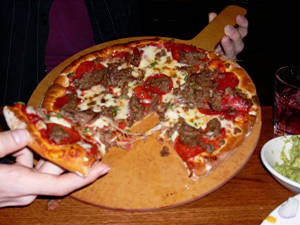 I didn't have my camera with me, my friend James took this with his daughter's digital camera.- Gabe
But I still haven't told you what kind of pizza I got. This pizza was topped with a thick layer of mixed white cheeses, colored with green flecks of basil, and what I swear was grated roasted garlic. Some people say "thick layer" when they mean it had a few handfuls of grated cheese tossed on top, but when I grabbed a slice, broke the crust, and pulled, the cheese stretched, and then pulled the rest of the pizza with my slice. Notice the broken crust, this was not bread that wasn't cut all the way, this was melted cheese so thick it was gluing the pizza together. Mmmmmm!
Deeply embedded in this pool of melted deliciousness were thickly sliced pepperonis, which were either hand sliced, or cleverly sliced at different thicknesses before being packaged for sale to micro-breweries. This is significant because it meant the tops of the pepperonis were crispy and the bottoms were still chewy, however you like your pepperoni they had you covered. Then, the piece d'resistance, Italian sausage marinated in beer. They make a point of saying that this sausage was marinated in their own house-brewed "Pale Ale", but this was beer sausage. It doesn't need a fancy name or title, it just needs to be smelled and tasted.
Overall this was one of the best pizzas I have ever tasted. Despite the unholy mound of cheese, it was not dripping in oil, and my fingers were not so greasy I had to wipe them off after every bite. If anyone who reads this blog is going to be in Cincinnati anytime soon, I highly recommend stopping in at The Rock Bottom. Ask to shake Mitch's hand, he's the Brewmaster there, and if you can wing it, try to sit in Amber's section, she's one of the best waitresses I've ever had, and she'll take care of you. Tell them both Gabe sent you.

Click here to visit the Rock Bottom
Gelsosomo's Pizzeria and Pub
371 Indiana Boundary Road
Chesterton, IN 46304
219-926-6363

Gelsosomo's first location opened in 1979. They've been voted #1 for Chicagoland/Northwest Indiana in the Entertainment Magazine People's Choice Awards from 2003 to 2007. Check out their website for all of their locations.
There's nothing better than Family, Friends, and Pizza!!